We recently attended the Blog Potomac "unconference" (i.e., t-shirts and shorts, no PowerPoint, happy hour during the ethics session) and were among 25 bloggers interviewed by Li Evans, owner of Search Marketing Gurus, on why we love blogging. Here's our answer, provided by Jeff: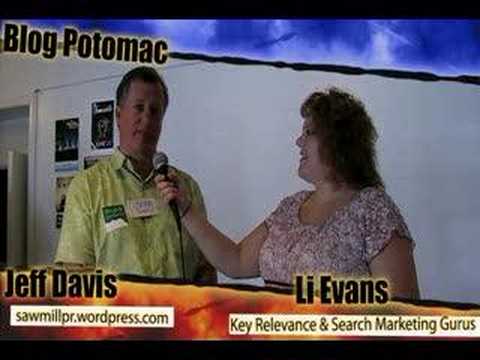 You can also check out answers from fellow conference attendees/bloggers, including AOL's Frank Gruber of the Somewhat Frank blog, Debbie Weil of BlogWrite for CEOs, David Parmet of Marketing Begins At Home and Jared Goralnick of Technotheory.
Li asked each person at the Falls Church, Va. event: "So what's your name?  What's Your Blog?  and… Why Do You Love Blogging?"  "The answers and responses we got were amazing and it was a lot of fun to do," she says.  "I felt like I now expanded my realm of blogs to read immensely, while also wanting to make sure the SMG audience knew about all these folks where we so passionate about blogs and the topic of their blogs!"
Check out all of the Blog Potomac interviews here!