Archive for Blog Potomac
Buzz had been stewing for the past week. Stewing that he lost both time and money, billable as well as oop. Stewing that he was an unwilling voyeur to a near day-long "insiders only" social media love fest. Stewing that, for the most part, he felt talked down to or talked around, dismissing or ignoring his own knowledge of and experience with social media.  
So, what is the source of this week-long stew, you ask?  Try the one-track June 12  BlogPotomac when at times, watching the flickering laptop screens was more interesting than listening to what was coming from the stage, with the exception of Shel Holtz and Ford's Scott Monty who each offered valuable insights on their views, uses and thoughts on all things social media today as well as in the future.  Thank you guys.
Overall the day for Buzz was relatively low energy, low interest and low value – yes, even at $95.  An entire segment on personal branding? Come on. Others had a similar reaction, and it even carried over to the official Blog Potomac happy hour event.
As if to confirm this sentiment, event organizer Geoff Livingston announced that a third and final BlogPotomac will take place in October, and then five days later the Senior VP/Social Media at PR firm CRT/tanaka came out with this blog post with the headline: "Why a Final BlogPotomac: Social Media Really Is Dead." Wow. Who knew?
Which got Buzz to thinking…as we see this shift to a new stage of social media with all the talk about "rock stars" (yes, some actually say this!) and personal branding and how to handle this new-found "fame," why not develop and host a social media event that brings the conversation back to reality? Anyone out there want to join in?
We recently attended the Blog Potomac "unconference" (i.e., t-shirts and shorts, no PowerPoint, happy hour during the ethics session) and were among 25 bloggers interviewed by Li Evans, owner of Search Marketing Gurus, on why we love blogging. Here's our answer, provided by Jeff: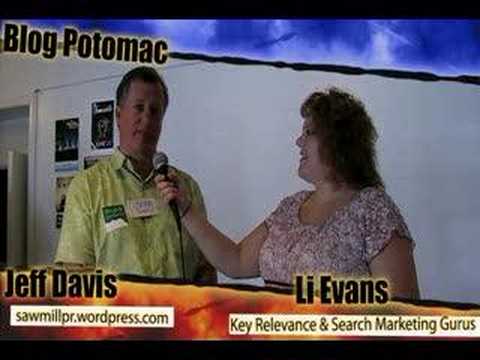 You can also check out answers from fellow conference attendees/bloggers, including AOL's Frank Gruber of the Somewhat Frank blog, Debbie Weil of BlogWrite for CEOs, David Parmet of Marketing Begins At Home and Jared Goralnick of Technotheory.
Li asked each person at the Falls Church, Va. event: "So what's your name?  What's Your Blog?  and… Why Do You Love Blogging?"  "The answers and responses we got were amazing and it was a lot of fun to do," she says.  "I felt like I now expanded my realm of blogs to read immensely, while also wanting to make sure the SMG audience knew about all these folks where we so passionate about blogs and the topic of their blogs!"
Check out all of the Blog Potomac interviews here!